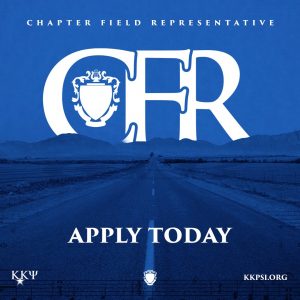 Brothers:
Kappa Kappa Psi, National Honorary Band Fraternity, is hiring two talented and dedicated brothers for the position of Chapter Field Representative (CFR). This position gives brothers a meaningful opportunity to give back to our organization as an official representative of the Fraternity and a staff member of our National Headquarters. Over a two-year period, our CFRs will visit dozens of chapters, travel thousands of miles across the country, and work with thousands of brothers and their college bands from coast to coast. The CFR position is supervised by National Executive Director, Steve Nelson, and National Vice President for Colonization & Membership, Jessica Lee.
The position starts in early summer 2020 (target date of May 29, 2020) and is held for two years. Applicant must be an Alumnus or Life Member of Kappa Kappa Psi in good standing on or before the first day of employment. At that time, the applicant must hold a bachelor's degree from an accredited institution of higher education. Applicants must be able to obtain an Oklahoma driver's license if hired. Applicants must possess a good driving record and are subject to a check of their driving record, criminal background, and credit. New-hire drug screening may also be required.
Applications are submitted via the online submission form only. Paper applications will not be accepted.
Application Deadline: February 9, 2020 at 11:59 PM Central Time
Application Form: https://www.kkpsi.org/cfr-2020-app/
Questions? Email cfrsearch@kkytbsonline.com
Please consider serving the fraternity in this unique way!
AEA,
Jessica Lee
National Vice President for Colonization & Membership
Steve Nelson
National Executive Director