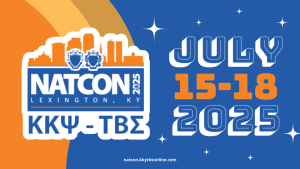 Sisters and Brothers of Tau Beta Sigma and Kappa Kappa Psi –
It is our honor and privilege to announce the host city and dates of our 2025 ΚΚΨ & ΤΒΣ National Convention. After ten years, we are excited to return to the scenic and charming city of Lexington, Kentucky on July 15-18, 2025. Lexington's musical history is as rich and diverse as the notes that define our two organizations. From the classical pieces that fill the Lexington Opera House to the vibrant tunes that resonate from the various music festivals, Lexington's musical legacy will add a unique and uniting touch to our convention.
Adding to the musical depth of our convention, we are thrilled to announce that the 2025 National Intercollegiate Band (NIB) will be conducted by Jason Fettig, a distinguished conductor renowned for his musical prowess who previously served as the 28th director of "The President's Own" United States Marine Band, and is the incoming Director of Bands at the University of Michigan. Additionally, we are honored to feature the talents of Composer Kevin Day, one of the leading young voices in the world of music composition today, who currently serves as an Assistant Professor of Composition at Wilfrid Laurier University. We look forward to their partnership as they craft this vision into a reality for our members and performers. In the meantime, we invite all Brothers and Sisters to tune into our livestream where we will get to meet them and learn more about their musical journeys. This will take place on Monday, Nov. 27, 2023, at 6:00 PM CT on our national Facebook pages.
As we convene in Lexington in 2025, we will mark a decade since our last national convention in this city. The convention center, a cornerstone of our previous gatherings, has undergone a remarkable $300 million transformation, which was completed in January 2022. A comprehensive renovation and expansion has elevated it to new heights of sophistication and functionality, offering a stunning venue that perfectly complements the grandeur of our shared celebration. We are very excited to be in the re-imagined space of The Central Bank Center, which is within easy walking distance of over 75 restaurants, numerous theaters, shops, and galleries, and offers a small-town charm with big-city amenities. We extend our deepest gratitude to the city of Lexington for its warm embrace and commitment to making this convention a resounding success.
Recognizing the importance of accessibility, we want to reaffirm to you our commitment to ensuring that the 2025 ΚΚΨ & ΤΒΣ National Convention in Lexington remains an affordable and convenient experience for all our members. With a focus on affordability, we have secured discounted accommodations and budget-friendly dining options, allowing members the opportunity to partake in our 40th Joint National Convention. Notably, Lexington's central location is a key highlight, serving as a convenient hub accessible to nearly 80% of our chapters. In addition to prioritizing affordability and convenience, we are actively exploring innovative ways to enhance the convention experience. We believe in creating an immersive and well-rounded experience that goes beyond the convention venue. As we look ahead, we are excited about the opportunity to work closely with the city of Lexington and our convention hosts to identify and secure other great options and opportunities for our members.
In the context of the ongoing uncertainties in the world, it's important to emphasize our unwavering dedication to providing a platform for member concerns. It is crucial to note that conversations and decisions regarding each national convention commence years in advance. This meticulous planning involves entering negotiations and signing contracts with hotels and convention sites early on, strategically seeking the best deals available. This proactive approach significantly contributes to our overarching efforts to ensure both the affordability and security of our national conventions. While the future landscape by July 2025 remains uncertain, our commitment to transparency and member engagement remains resolute. We encourage you to share your thoughts and questions through our Building Our Best Convention: Member Feedback Form for NatCon25. Your invaluable input will be instrumental in shaping the convention as we approach this significant event.
Be sure to mark your calendars for July 15-18, 2025 the 2025 ΚΚΨ & ΤΒΣ National Convention in Lexington! Further details, including dates, venues, and registration information, will be shared in the upcoming months. Stay connected with us on social media and our official channels for the latest updates and announcements. We invite you to share your excitement on social media using #NATCON25 and let the world know that we are bringing the spirit of music, leadership, and service to the heart of Kentucky!
Looking ahead to 2025 in Lexington, we're excited to join together for another convention filled with music, learning, and camaraderie.
Yours in the Bond,
Steven C. NelsonNational Executive Director


Kappa Kappa Psi & Tau Beta Sigma

Bang T. CoNational President, Kappa Kappa Psi


Life Member, Alpha Zeta Chapter

Siobhan Wilkes BratcherNational President, Tau Beta Sigma


Life Member, Beta Zeta Chapter