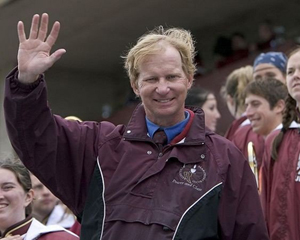 On September 16, 2010, the music community lost one of its great educators. George Parks received a B.S. from West Chester University where he served as drum major of the Golden Rams marching band and an M.M. from Northwestern University. He served as the Director of the Minuteman Marching Band "The Power and Class of New England" since 1977; a position he took up at the age of 24. Professor Parks' bands have performed in two Presidential Inaugural Ceremonies, and at the New York Giants and New England Patriots Football Games. Under Parks' direction, the Minuteman Marching Band won the Sudler Trophy for tradition of excellence in marching band in 1998.
Professor Parks was a former instructor and Drum Major for the DCA World Champion Reading Buccaneers Drum and Bugle Corps, and was awarded Outstanding Drum Major at eight DCA World Championships. He was the founder of the George N. Parks Drum Major Academy, and the co-founder of the Band Leadership Training seminars.
Recognized throughout the world, Parks has received numerous awards including: the University of Massachusetts Amherst Distinguished Teaching Award in 1989, named the Massachusetts Instrumental Conductors Association Conductor of the Year in 1991, inducted into the World Drum Corps Hall of Fame (1993), University of Massachusetts Chancellor's Medal for Distinguished Service, inducted into the Bands of America Hall of Fame (2006) and the Kappa Kappa Psi Distinguished Service to Music Medal (2008). A tireless fund-raiser, Parks was the driving force behind the $5.7 million Minuteman Marching Band Building that is currently under construction. The new building is to be named in his honor.
When asked "What is the Power and Class of New England?" Parks replied, "It's about standing for something that counts. It's about building a group that is first and foremost, musical. It's about teaching a group of men and women leadership." It was this vision of his role in music education and the success of his students that is Professor Parks' legacy.