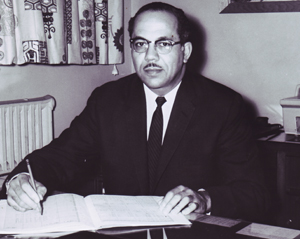 We are sad to report the death on August 28, 2010 of Dr. William P. Foster. Dr. Foster served as the director the Florida A&M Marching 100 from 1946 to 1998. During his tenure, Foster is credited with revolutionizing marching band techniques to showcase band pageantry; many of which have become standard techniques for high school and college bands. When Dr. Foster became Director of Bands at FAMU in 1946, the marching band consisted of 16 members. By 1950, the band boasted a membership of 100, and the Marching 100 was born. Under his direction, the Marching 100 made numerous television appearances and gained international acclaim.
At age 12, Foster began playing clarinet, and while in High School was appointed student director of the Sumner High School Orchestra in Kansas City, Kansas. He received his Bachelor of Music Education in 1941 from the University of Kansas, a Master of Arts in Music from Wayne State University in 1950, a Doctor of Education degree with a major in Music from Teachers College, Columbia University in 1955, and the honorary Doctor of Human Letters degree in 1998 from Florida A&M University. While attending Teachers College, Columbia University, Dr. Foster was a fellow of the Rosenwald General Education Board.
Dr. Foster has been inducted into the Florida Artists Hall of Fame, the National Association for Distinguished Band Conductors Hall of Fame, the Florida Music Educators Association Hall of Fame and the Afro-American Hall of Fame. He has also served as national presidents of the American Bandmasters Association (ABA), the College Band Directors National Association (CBDNA) and was appointed to the National Council on the Arts by former President Bill Clinton. CBDNA awarded Dr. Foster the CBDNA Lifetime Achievement award in December of 2009. In January 1973, he was awarded a Kappa Kappa Psi Distinguished Service to Music Medal in the field of Marching Band.