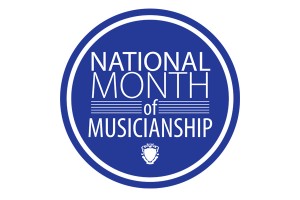 I hope you've all had the chance to see the launch video of this year's Month of Musicianship campaign, celebrating our personal connections to music. Many thanks to National VPSA Bang Co and the National Communications team for bringing this year's vision to life.
During this Month of Musicianship, we are charging brothers to take some time and reflect on our personal relationship with music. Remember, while service to college and university bands unites us, it is the art of music that unifies us. So throughout this Month of Musicianship, not only do we want to actively showcase the best of what our brothers do for advancing music in our lives, but we want us all to take an inside look about what connects us to music in the first place.
Ask yourself: Band is our bond, but what does music mean to me? If I could find one word that summed up how important music is to me, what would it be?
Once you've uncovered your word, print out the attached template, write it out, snap a picture or a video, and post it up on social media using the hashtags #BandIsOurBond and #MonthofMusicianship. Take some time to share your story – celebrate how meaningful music is to you.
This can be an amazing conversation starter within your chapter, and an amazing opportunity to make connections with brothers across the country. Expand the conversation – we aren't the only musicians in our bands. Ask our sisters in Tau Beta Sigma and other band members what music means to them. Because once we start to look at the broader meaning of music in our lives, music is no longer a broad concept, but something that holds true meaning in our identity.
Continue to share all of the amazing activities that you and your chapters are doing to hone the craft of music, but also share the stories of what music means to you.
If you have any questions about this year's Month of Musicianship, or any of Kappa Kappa Psi's national programs, please do not hesitate to contact me at mnapolitano@kkpsi.org.
If you have not yet had a chance to watch the Month of Musicianship launch video, find it here: https://www.youtube.com/watch?v=u9nBjj5Zn_I
To share and print out the template, visit: http://bit.ly/KKPsiMoM19
AEA,
Mike Napolitano
National Vice President for Programs, 2019-2021
Kappa Kappa Psi
National Honorary Band Fraternity
Pronouns: he, him, his