Brothers of Kappa Kappa Psi,
The honor to serve as your National President, backed by the invaluable trust that you have placed in me, is not one that I take lightly. Reflecting on the 103-year-long journey of Kappa Kappa Psi – a fraternity built on love, passion, and servant leadership – it is clear that our past illuminates our path forward. The start of a new biennium represents more than a passage of time. It signifies the continuation of our pursuit of wisdom, a journey we take together as Brothers of Kappa Kappa Psi. At the 2023 National Convention, we not only celebrated our storied legacy but also carved a shared vision for our future. By reaffirming our ritualistic values, we reinforced our commitment to the principles we uphold, ensuring that our service to college and university band programs across the country is unwavering and impactful. This is the "AEA Way". It's our belief, our identity, and our mission. To see Kappa Kappa Psi thrive for another century, we must manifest these principles and purposes into tangible actions.
Brothers, we stand at a pivotal moment – an opportune juncture where our shared history, present opportunities, and future potential converge. As we stand at this crossroads, I invite each one of you – Active and Alumni alike – to not just look forward but also glance backward. In our history lies not only our legacy but also the blueprint for our future. But our legacy, while rich and robust, is not just a reflection of what we have achieved. It is also a testament to what awaits us on our journey ahead. We have so much to be proud of, from our contributions to the band community to our presence across the country. The true spirit of Kappa Kappa Psi, however, lies not just in what we've done but in what we are about to do. Our journey ahead requires a collective effort, a symphony of voices coming together to create a harmonious and impactful melody. Together, we march towards the foothills of success, undeterred by challenges, united by purpose. Let us be inspired not only by the prospects of our own growth but also by the impact we have on others. Let us embrace our role not just as spectators but as catalysts for change. By embodying the "AEA Way" – marked by an unwavering dedication to our Ritualistic vows, our new mission, and each other – we can inspire a new era of excellence. We are called not to merely embrace complacency or uphold the status quo, but to embody a similar spirit as our Founders had, leveraging the legacy of our past triumphs and cherished traditions to propel us confidently through the second century with the same fervor and momentum that ignited our journey in 1919.
This statement serves as a call to action, urging us to seize the mantle of leadership in the distinctive "AEA Way" and to create a lasting impact on college and university bands nationwide. I am both honored and excited to share with you the vision that will guide our journey forward for the next two years. As your National President, my commitment is to inspire each of you to take ownership of our collective path as a Fraternity.
The Kappa Kappa Psi Journey Unfolds
Our journey is a rich tapestry of our foundational ethos, trials, triumphs, and aspirations. It's a dynamic dance between respecting our past and evolving for our future.
Our Roots:

Born from a desire to cultivate leadership amongst band members and music enthusiasts, Kappa Kappa Psi emerged as a beacon of excellence and service in the world of music.

A Time of Reflection:

Pausing occasionally to reminisce and reflect is as important as forging ahead. It's these moments of introspection that ground us, ensuring our journey ahead stays true to our core.

Seizing the Present:

Our journey's present phase calls for an embrace of opportunities, pushing boundaries, and solidifying our role as leaders and influencers in the band community.

The Legacy We Build:

It's our responsibility to ensure that our legacy doesn't just dwell in our past achievements but also paves the way for a future of significance.

Towards a Bright Future:

Our vision is clear – a Kappa Kappa Psi that thrives on service and continues to influence the college band movement, even as the landscape of the music community evolves.
The Biennium Plan
To ensure that this vision is realized, we've framed out a year-long initiative and have branded the months of the academic year as follows:
September: Month of Service – Engage and promote the virtue of service, with local community projects and seminars on altruistic growth. Chapters can get involved with this by:
Hosting virtual panel discussions with key figures in the college band movement.

Organizing service projects at local levels for members to engage with their community.

Participating in workshops focusing on healthy ways of being selfless and avoiding burnout.

We encourage our 'quarter system' schools to take some of these practices into October.
November: Month of Musicianship – Enhance individual musicianship, focusing on contribution's significance in an ensemble. Chapters can get involved with this by:
Hosting instrument-specific virtual masterclasses with professional musicians.

Participating in webinars on the role of individual contribution in an ensemble setting.

Organizing peer-reviewed practice sessions to foster a culture of feedback and growth.
February: Month of Leadership – Harness the Founders' Circle program to cultivate leadership and drive a culture of continuous improvement. Chapters can get involved with this by:
Leveraging the Founders' Circle program and speakers for leadership training sessions.

Hosting roundtable discussions on leadership challenges and solutions with other chapters.

Provide personal leadership assessment tools for members to reflect upon.
April: Month of Brotherhood – Emphasize the vitality of forging meaningful connections and valuing the human essence of our Brothers. Chapters can get involved with this by:
Attending district events, such as district conventions, with the entire chapter.

Collaborating with other chapters to host brotherhood events to foster deeper connections.

Hosting workshops on the importance of humanizing titles and treating each member with respect and dignity.
June: Month of Celebration – Honor our accomplishments, our graduates, and lay down a marker of our organizational evolution. Chapters can get involved with this by:
Hosting graduation ceremonies for seniors.

Creating announcements to introduce newly elected chapter officers.

Hosting an awards night to recognize the outstanding contributions of members.

Hosting reflective sessions for members to share their progress and rejuvenate.
During the intermittent months, our national committees will be actively engaged in providing a series of impactful virtual events and activities, tailored to enhance the journey of each Active member. These sessions are designed to equip our members with practical skills and knowledge that will foster success within Kappa Kappa Psi, in their academic pursuits, and in their future endeavors. Here's what you can expect from these enriching experiences:
Chapter Operations:

Sessions aimed at setting up chapter officers for success, covering efficient planning, effective organization, and strategic execution.

Communications:

Workshops focusing on helping chapters strengthen their marketing and story-telling strategies, enabling them to effectively communicate their impact and value.

Curriculum:

Dedicated sessions to enhance chapters' membership education and continuing education processes through The Road to Wisdom.

Data Assessment:

A focus on understanding what Kappa Kappa Psi truly looks like and how chapters can leverage membership data to inform decision-making processes.

DEIA:

Meaningful conversations that explore the importance of diversity, equity, and inclusion, promoting a more inclusive fraternity, and cultivating culturally sensitive leaders.

Expansion:

Guiding members on how they can contribute to Kappa Kappa Psi's growth and expansion efforts by sharing its impact story and value proposition with directors and students who don't have a KKPsi chapter.

Programs:

Exploring how chapters can leverage and benefit from our national programs to enhance their member experience and overall growth as a Brother.

Ritual Performance & Education:

In-depth guidance on how chapters can deepen their understanding and performance of our Ritual, fostering a stronger connection to our foundational principles and lessons.

Sponsor/DOB:

Focusing on how chapters can build better relationships with their Sponsors and DOBs and contribute to our mission of serving college and university bands.
By intertwining these skill-building opportunities with the larger narrative of the Kappa Kappa Psi Journey, we aim to foster a profound connection between individual growth and the collective advancement of our Fraternity. Through these tailored experiences, we're dedicated to empowering each member to not only succeed within Kappa Kappa Psi but also to excel as resilient leaders in their personal and professional lives.
Let us not forget, however, that at the heart of Kappa Kappa Psi's essence lies a profound and unbreakable bond – a tapestry woven with threads of service, leadership, musicianship, and brotherhood. It is this affinity for service, our shared passion for band, and the genuine love we hold for one another that imparts depth and purpose to our journey, rendering it not just meaningful but vital. This love stands as our hallmark, shaping our identity and driving our pursuit of excellence. As we traverse this path together, let us recognize that nurturing this love is pivotal; it's through the care we extend to each other that we ensure the continuity of our journey's melody, a symphony woven with the notes of unity, compassion, and unwavering support.
Our journey ahead beckons us to march forward, unified in purpose and resolve. This biennium presents both challenges and opportunities. But if history has taught us anything, it's that Kappa Kappa Psi thrives in the face of adversity. Our values and purposes, tested by time, have grounded us. Yet, we must not become complacent. We must adapt, evolve, and strive for even greater heights. Now, more than ever, we need to play in unison, translating the "AEA Way" into a melody that echoes for generations to come. This vision for the biennium is not merely a proclamation – it is a call to action, a rallying cry that resonates with our shared ideals. Let us embrace THE KAPPA KAPPA PSI JOURNEY with passion, celebrate our past with pride, and steer our Fraternity toward a future that stands as a testament to our dedication. Let's compose a masterpiece that leaves a positive impact on the world of college and university bands. The time to lift our batons is now. In harmony and rhythm, let's march toward success.
Journeying with you,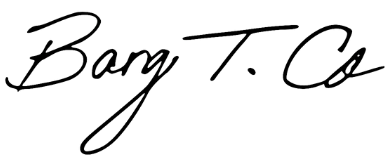 Bang T. Co (he/him)
National President of Kappa Kappa Psi (2023-2025)
Life Member – Alpha Zeta Chapter, Indiana University
president@kkpsi.org