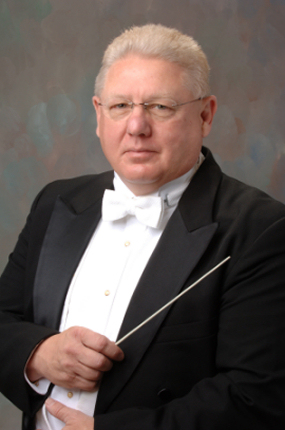 Kappa Kappa Psi joins The University of Akron college band community in mourning the loss of Professor Robert D. Jorgensen, who passed away on July 4, 2015. Director of Bands at The University of Akron for 26 years and as Director of Bands Emeritus since his retirement in 2013, Jorgensen also held the titles of Professor of Music as well as Assistant Director of the School of Music. Since 2006, Mr. Jorgensen has served as musical director/conductor of The Freedom Brass Band of Northeast Ohio.
During his tenure at Akron, the University of Akron Symphonic Band was invited to perform at 11 conferences of the Ohio Music Education Association, the 1992 conference of the College Band Directors National Association (CBDNA); the 1998 CBDNA conference; the 2003 American Bandmasters Association Convention; and the 2004 CBDNA conference. Under his direction, the UA Symphonic Band also performed at Severance Hall in Cleveland in April 2003, followed by a 2008 European tour.
Professor Jorgensen has been widely honored as a music educator and conductor. He received the Outstanding Bandmasters Award from Phi Beta Mu, International Bandmasters Fraternity, in 1999 and the Citation of Excellence Award from the National Band Association in 1981. In 1992, Kappa Kappa Psi honored Professor Jorgensen with the A. Frank Martin Award. Recently, Mr. Jorgensen received unanimous support from his colleagues for the distinction of Professor Emeritus at The University of Akron. He was also honored on December 6, 2013 as a recipient of The University of Akron Honorary Alumni Award.
Mr. Jorgensen has appeared as a guest conductor, clinician, and adjudicator throughout the United States and, in 2009, he was invited to serve as an adjudicator for the St. Patricks Day Parade in Dublin, Ireland. He has held professional memberships in the The American Bandmasters Association, (past president), National Band Association, Mid-American Conference Band Directors Association (past president), College Band Directors National Association, NAfME – The National Association for Music Education, Ohio Music Education Association, and Phi Beta Mu. Mr. Jorgensen was also an honorary member of Kappa Kappa Psi (Zeta Omicron) and Tau Beta Sigma (Epsilon Iota).
Mr. Jorgensen earned a bachelor's degree from the University of Illinois and a master's degree from Michigan State University. He was euphonium soloist with the United States Army Field Band in Washington, D.C. from 1969-1972. Prior to joining the faculty at The University of Akron in 1987, Professor Jorgensen had served on the faculty at Morehead State University in Morehead, KY and had also served as Director of Bands at Midwestern State University in Wichita Falls, TX.
Professor Jorgensen's work as a dedicated and devoted musician and educator lives on through the thousands of students he taught and influenced throughout his career.