Brothers:
I am excited to announce the newest members of the Kappa Kappa Psi Governor Corps for the 2021-2023 biennium!
Northeast District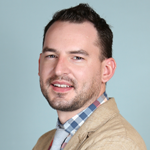 Matthew Parent, Life Member – Epsilon Nu, University of Massachusetts
Matthew Parent (he/him) is a political scientist and administrator in higher education. He currently supports coursework and research at Harvard's Kennedy School of Government, focusing on issues of nuclear security. He holds an MA in Political Science from the University of Connecticut, an MA in World Politics from the Catholic University of America, a BA in Political Science from the University of Massachusetts, and is currently writing a dissertation for a PhD in Political Science from UConn. Matt has been a Brother of Kappa Kappa Psi since 2005, serving as NED President in the 2008-2009 academic year, currently serves as sponsor of the Epsilon Nu Chapter at UMass, and currently serves on the National Ritual Performance and Education Committee.
Southeast District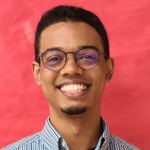 Justyn "JP" Davis, Life Member – Zeta Chi, University of South Carolina
Justyn "JP" Davis (he/him) is the Assistant Director of Bands at Mauldin High School in Greenville, South Carolina. JP has completed his 4th year of teaching after completing his Bachelor's Degree in Music Education along with a Certificate of Performance at the University of South Carolina in 2017. So far at Mauldin, he has helped the ensembles receive multiple superior ratings at concert and contest performances, appear multiple times at the SCBDA 5A State Marching Band Finals Competition (with a record high of 4th place in the state), and perform for the program's first time at the 2019 SCMEA Professional Development Conference. While in school at USC, he performed in all of the University's Concert Ensembles and has been a featured soloist with the USC Wind Ensemble. In the University's athletic bands, JP served as Drum Major of the Carolina Band for 3 years and played Saxophone with the University's Pep Bands. Professionally, JP is a member the National Association for Music Education, Phi Mu Alpha Sinfonia, and Kappa Kappa Psi National Honorary Band Fraternity, where he has previously served as Vice President of Programs for the Southeast District of Kappa Kappa Psi and on the National Ritual Performance and Education Committee. JP is currently pursuing his Master's Degree at Florida State University, is very passionate about leadership, and spends a lot of his breaks around leadership camps and workshops. 
North Central District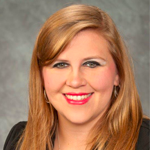 Michelle Banis, Life Member – Iota Lambda, University of Mount Union
Michelle Banis (she/her) was initiated into the Iota Lambda Chapter of Kappa Kappa Psi in the fall of 2012. She double majored in Human Resource Management and Marketing and performed with The Purple Raider Marching Band, Wind Ensemble, and Concert Bands. As an Active Brother, Michelle served as Chapter Secretary and Chapter President for two consecutive terms, pulling the Chapter through a very turbulent time. Under her leadership, Iota Lambda won the "Most Improved Chapter" in the nation in 2015. Michelle was also an AEA scholarship recipient, a J. Lee Burke Student Achievement Award national recipient, and a two time / inaugural "Outstanding Band Member Award" recipient for the Mount Union Band Program.  After graduating in 2016, she went on to work at her alma mater as a graduate assistant in the offices of Residence Life and Recreation & Intramurals while studying at Kent State University.  While working toward her M.Ed in Higher Education Administration, Michelle also took on the role of Chapter Sponsor for Iota Lambda and worked as a Curriculum Advisor with the launch of the Road to Wisdom. In 2018, she became a founding member of the North Central District Alumni Association and has since worked as the organization's Growth & Wellness Director, Membership Director, and Vice-Chair. She was most recently appointed to serve on the National Curriculum Committee for the 2019-2021 biennium.  Professionally, Michelle continues to leave her mark at Mount Union while working in the Office of Alumni Engagement. She resides in Alliance, Ohio, but often travels to the Cleveland area to visit with her family. In her "free" time, Michelle enjoys advising other student organizations at Mount Union, playing in local community bands, and spending time outdoors – especially camping! Serving as NCD Governor has always been a dream of Michelle's – she just never thought it would come this soon. She's incredibly thankful for the opportunity to serve the fraternity in this way, giving back to the organization that has truly made her the person she is today!
Southwest District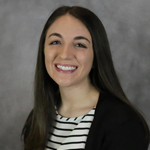 Elizabeth Pineiro, Life Member – Gamma Phi, Stephen F. Austin State University 
Elizabeth Pineiro (she/her) started her band career learning trombone in Katy, TX. She then went to study Music Education at Stephen F. Austin State University and graduated with her Bachelors in 2018. During her years at SFA, Lizzi was initiated into the Gamma Phi chapter of Kappa Kappa Psi. As an active brother, she was very involved holding positions such as Brotherhood/Service Chair, Historian, Vice President of Membership, and Southwest District Vice President for Membership. After graduating, Lizzi continued her involvement in the fraternity as a Chapter Advisor and committee member on the National Curriculum Committee. Lizzi is a band director and has completed her third year of teaching, currently working at Brabham Middle School in Willis, TX. She has three pets: a Siamese cat named Nutmeg, a Double Doodle (Labradoodle-Goldendoodle Mix) named Hex, and another cat named Remy. In her free time, Lizzi likes to rock climb, travel, nap, and stream shows and movies.
Midwest District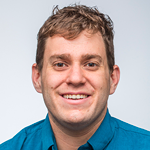 Dr. Nic Rorrer, Life Member – Eta Beta, Virginia Tech University 
Dr. Nic Rorrer (he/him) is a Life Member of the Eta Beta chapter at Virginia Tech and has been the sponsor of the Xi Chapter at the Colorado School of Mines since 2014. From 2015 to 2021 he served on the Alumni Association Board of Directors for the Fraternity and served as its Chair from 2019 to 2021. Additionally, Nic is part of the Founders Circle Leadership Development speaking team.  Professionally, Nic is a Senior Researcher at the National Renewable Energy Laboratory researching methods to redesign today's   plastics to be sourced from renewable resources and to be recyclable by design. In his free time he can often be found wandering the Rocky Mountains either teaching yoga, snowboarding, or hanging out with his partner and dog. 
Western District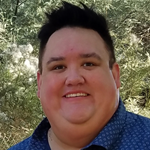 Lance Coochyouma, Life Member, Gamma Kappa – Northern Arizona University & Omega, The University of Arizona
Lance A. Coochyouma (he/him) was initiated into the Gamma Kappa Chapter of Kappa Kappa Psi at Northern Arizona University on January 27, 2001, and then transferred to The University of Arizona and was Active in the Omega Chapter. As an active Brother he served in many chapter offices, including Chapter President. He also served on the Western District Council for four years, two of those years as District President. While at NAU he was a performing member of The Lumberjack Marching Band and Collegiate Concert Band, and at UA he was a member of The Pride of Arizona Marching Band and Campus Concert Band. He also had the opportunity to serve in the role of Drum Major and Colorguard Captain, furthering his development and love of band. He was honored to be awarded the J. Lee Burke Student Achievement Award in 2007. In May of 2008, Lance graduated with a Bachelor of Arts Degree in Communication, Emphasis in Multi-Cultural Communication. Following graduation, Lance enjoyed time exploring the workforce and gaining valuable experiences. He always knew he wanted to give back to the Fraternity in some way, and that chance presented itself when he was appointed as Western District Governor for the 2015-2017 Biennium and also served on the National Nominations Committee. Lance is a proud Life Member of the Gamma Kappa and Omega Chapters, and holds Life and Honorary Membership in the Omega Chapter and Western District of Tau Beta Sigma. Professionally, Lance brings clinical and directional leadership to the healthcare industry; serving as a voice and champion within the Critical Care Telehealth arena as a Health Unit Coordinator and Cardiac Telemetry Technician. Named a Healthcare Professional Who's Who, Lance holds membership in the National Association of Health Unit Coordinators, American Association of Critical Care Nurses, and American Telemedicine Association. Lance is thankful to continue his support of bands serving as a working adjudicator for AzMBA, WGAZ and WTCA, adjudicating primarily the GE and Visual Ensemble Captions. He also holds membership in the National Band Association. Lance currently resides in the suburbs of Phoenix, in Gilbert, Arizona. He enjoys cooking after watching YouTube cooking tutorial videos, swimming, planning weekend trips, and eating Asian influenced food of any kind. In his free time you can find him trying new Trader Joe's products or watching ER re-runs.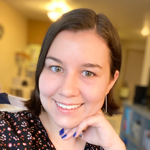 Karissa Longo, Life Member – Zeta Epsilon, Michigan State University
Karissa Longo (she/her) was initiated into the Zeta Epsilon chapter of Kappa Kappa Psi in Spring 2015. As an active Brother, she served as chapter corresponding secretary and vice president of programs. For the last two bienniums, Karissa has been serving the Fraternity as a member of the National Communications Team. Karissa holds a Bachelor's degree in music education from Michigan State University. She currently lives in Seattle, Washington, where she teaches elementary general music in the Seattle Public Schools. She will begin a Master's degree in music education at the University of Washington this Fall. Outside of music, Karissa enjoys reading, being outdoors, and spending time with her two cats.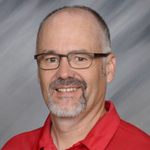 Brian Parker, Life Member, Iota Pi – California Polytechnic State University
Brian Parker (he/him) was initiated into the Iota Pi Chapter at California Polytechnic State University, San Luis Obispo in the Spring of 1992. While a student at Cal Poly, he served the fraternity as the Colony Vice President, Alumni Secretary, Executive Officer, and Western District President. Brian graduated from Cal Poly with a Bachelor of Science Degree in City Regional Planning. Brian returned to school 1995 to begin his studies in Music Education at Modesto Junior College and helped start the Zeta Rho Colony while attending MJC. Brian put a hold on his studies and served as the third National Chapter Field Representative for Kappa Kappa Psi from Spring 1996 through Fall 1997. Professionally Brian has worked as Music Educator in Monterey County for over twenty years and is the current Director of Bands and Visual and Performing Art Department Chair at North Salinas High School where he directs six different performance ensembles. Brian is a life member of Kappa Kappa Psi and holds honorary membership in the Midwest District, Alpha Chapter, and Zeta Rho Chapter and was initiated into the Nu Zeta Chapter of Phi Mu Alpha at California State University, Stanislaus in the Spring of 2000. 
These individuals will be joining the following returning governors for the 2021-2023 biennium:
Northeast District
Rassii Elliott, Life Member – Eta Omega, Howard University
Marci Jones, Life Member – KKPsi Northeast District & Gamma Epsilon (University of Miami), Tau Beta Sigma
Southeast District
Arupa Gopal, Life Member – Kappa Tau, University of South Florida
Kalem Graham, Life Member – Zeta Psi, Virginia State University
N0rth Central District
Tammi Ramsey, Life Member – Zeta Omicron, University of Akron
Marc Renaud, Life Member – Zeta Epsilon, Michigan State University
Southwest District
Andy Melvin, Life Member – Delta, University of Oklahoma
Clint Wieden, Life Member – Alpha, Oklahoma State University
Midwest District
Denali Pearce – Alt, Life Member – Delta Gamma, Missouri University of Science and Technology & Epsilon Psi, Missouri State University
Jennifer Taylor, Life Member – Gamma Theta, East Central University & Lambda, University of Arkansas
Additionally, Prof. Anthony Falcone, Associate Director of Bands at the University of Nebraska-Lincoln, will be returning as National Vice President for Professional Relations.
Brothers, please join me in congratulating these Brothers as part of our leadership team for the 2021 – 2023 biennium!  
AEA,
Jessica Lee
National Vice President for Colonization & Membership
Life Member – Eta Alpha, Lock Haven University of Pennsylvania