The Silver Baton Award is intended to recognize individuals for service to bands for noteworthy longevity and continuous quality. This award is broad in nature and allows chapters the opportunity to nominate band educators, volunteers, administrators, and others for national recognition. Chapters could, for example, nominate Silver Baton individuals who have contributed significant service to bands over an extended period of time through:
• their professional work as college band directors,
• their careers as band music educators,
• their support of bands as university administrators,
• their furtherance of bands as operational and support staff,
• their assistance to bands as long-time volunteers, or
• their addition to band repertoire as composers.
Any chapter in good standing, with the approval of its Sponsor(s) and Director of Bands, may nominate a candidate. Chapters must complete the Silver Baton Award Nomination Form for each nominee, and chapters must include a photograph and biographical summary of the nominee with each nomination for archival purposes. After receiving and reviewing a nomination for the Silver Baton Award, the National Council of Kappa Kappa Psi will vote to approve conferring the award. With National Council approval, chapters may present this award at local concerts, state music conventions, and/or special public gatherings.
The National Council, at its discretion, may itself identify and consider individuals for the Silver Baton Award, then vote to approve conferring the award to those individuals.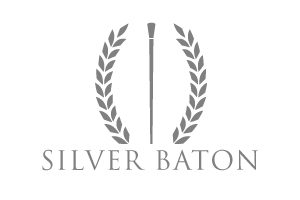 Award Recipients
2018     Edward Crenshaw
2018     Michael Hampp
2019     Dr. Debow Freed
2019     Kenneth Milton, Sr.
2019     Russell Boone
2020     James E. Mauck
2022     Dr. David L Mills
2022     Dr. Michael Steiner
2022     Dr. Lori Steiner
2022     Dr. Patrice Caldwell
2023     Patricia LaNasa