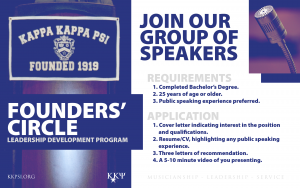 Brothers:
In the summer of 2017, the National Council voted to accept the proposal of Past National President Dr. Kirk Randazzo to create a new National Leadership Development Program for Kappa Kappa Psi called The Founders' Circle.
This program will contain two fundamental aspects: a series of dynamic workshops offered on a regular basis at district and national conventions; and an online tutorial with information pertaining to all components of the leadership program. Material for The Founders' Circle is based primarily on the Social Change Model which identifies three different levels of leadership: Individual, Group/Team, and Society/Community. The leadership program also incorporates specific skills and values that brothers and band directors identified through surveys collected by the fraternity's Leadership Task Force. The Founders' Circle is designed to provide individuals with a comprehensive understanding of leadership for their band programs and their future.
An exciting piece of this work is the development of a team of dynamic speakers who will implement The Founders' Circle, and equip brothers with values and skills needed to be successful as actives and alumni. This team will engage in intense training weekends and perfect their presentation skills through the guidance of Dr. Randazzo. Individuals who complete the training and preparation will be utilized for workshops and presentations across the country at local, district, and national events.
Requirements:
Completed Bachelor's Degree

25 years of age or older

Public speaking experience preferred
Application:
Cover letter indicating interest in the position and qualifications

Resume/CV, highlighting any public speaking experience

Three letters of recommendation

A 5-10 minute video of you presenting
Applications are due by Friday, November 2, 2018. They can be submitted to National President Evan Thompson at evan@kkpsi.org.
If you have any questions, please feel free to contact President Thompson or Dr. Kirk Randazzo (randazzo@mailbox.sc.edu).
AEA,
Evan L. Thompson
National President
2017-2019