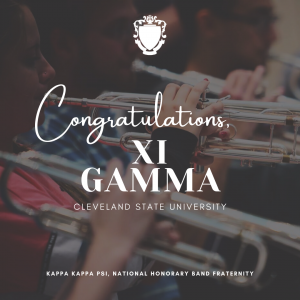 On behalf of the National Council, I am proud to announce the successful chartering and installation of the 
Xi Gamma
 chapter at 
Cleveland State University 
on Sunday, January 30th! The process started at the beginning of last semester with a petitioning group of twenty-three band members, led by Maddie Baldwin and with the support of their Director of Bands, Dr. Birch Browning.This process would not have been possible without the help of our amazing Advising Team. This group was led by NCD Governors, Marc Reanud and Michelle Banis and consisted of three additional advisors. Thank you to these Brothers for their guidance and leadership in this process. We are deeply grateful for their service and support.
Akilah Thomas, Past NCD VPM (Beta Kappa)
Viet Nguyen, Past NCD VPM (Eta)
Jack Gornick, Past NCD President (Alpha Zeta)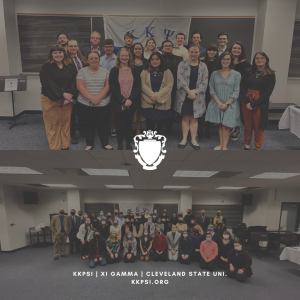 We would like to extend our appreciation to the Iota Lambda chapter at the University of Mount Union for providing Ritual supplies for the installation.
Lastly, we would like to give thanks to the several chapters that made the trip to support the installation of the Xi Gamma chapter. It was extremely heartwarming to see everyone come together to welcome our new Brothers. Thank you to the following chapters:
Beta Kappa (Bowling Green State University)
Beta Psi (Kent State University)
Zeta Omicron (University of Akron)
Maddie and Dr. Browning will start this semester as Chapter President and Chapter Sponsor, respectively. Please help us congratulate and welcome them to the Brotherhood! AEA.
If you or anyone you know has questions about our petitioning process, please visit our Starting A Chapter page or email me at bangco@kkpsi.org.
Bang T. Co (He/Him/His/他)
National Vice President for Membership & Expansion
2021-2023 Kappa Kappa Psi National Council
Life Member | Alpha Zeta Chapter at Indiana University