Giving to Kappa Kappa Psi:
All Aboard Campaign
Giving Home | Trust Fund and General Fund | Ways to Give | All Aboard Campaign | Donor Levels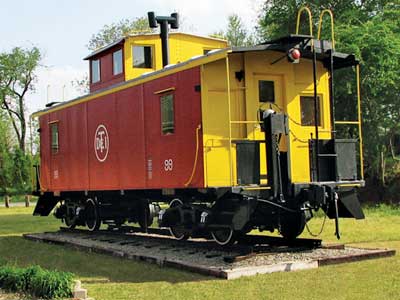 As we continue to celebrate the history of our college bands, it is important that we remember to celebrate the history of our great fraternity as well. One problem that faces many chapters is that of limited space to adequately display and store historical items. This is also a problem faced by the National Headquarters. The Stillwater Station facility does well for the day-to-day operations of the fraternity, but its size limits the space available for the archival and display of historical items. However, there is a solution.
The "All Aboard" campaign was designed to address the issue of limited space and to help highlight the history of Kappa Kappa Psi. Over the last several years, the fraternity has worked to turn a caboose into a "living museum", which will provide a home for historical archives, artifacts, and space for visitors to research their own chapter history.
With the support of active members, alumni, chapters and friends, significant progress has already been made. Initially, the caboose was balanced and placed on newly laid tracks and had electric lines, phone lines and Internet installed. The exterior was sandblasted and repainted to original colors, and the interior has been refurbished including the addition of new carpet, windows and trim.
While this project is nearing completion, there is still much to be done before the celebration can begin. The final plans include the installation of display cases and small workstations inside the caboose as well as a beautiful landscaping project outside, but this cannot take shape without your generous support.
Please consider making a donation to the "All Aboard" campaign. We know that many of you, as chapters and as individuals, have already contributed to this campaign, and we hope that you can continue to support this worthy project. Your tax-deductible donation will allow us to continue to support the growth, and celebrate the past, of our fraternity.
Your support has already made the progress on this project possible and we're nearly there. Your support will help push this project to its final stop on the line! All donations are welcome and no gift is too small. However, donors of $50 or more to the "All Aboard" campaign, will have their name printed in an upcoming issue of THE PODIUM, and be forever listed on a scroll of donors that will be located inside the caboose.
All Aboard Caboose Campaign Donor Levels
| | |
| --- | --- |
| $1,000+ | Engineer |
| $500-$999 | Brakeman |
| $250-$499 | Switchman |
| $50 - $249 | Passenger |